Nivea is another brand, that is accepted globally because of its wide range of beauty and wellness products. This time in Nivea soft cream review you will get to know everything about the product to its core.
Typically, Nivea as a brand is familiar to everyone, from baby care to young beauty, from summer cream to winter and all-weather moisturizer Nivea covers it all in its flagship.
BluBlunt, analyzed the Nivea Soft Cream – Light Moisturizer to its core, continue reading to know the true insights and review the product, and continue reading Nivea soft cream review.
Nivea Soft Cream – Light Moisturizer
In Nivea Soft Cream Review, Your search for a perfect all-weather moisturizer ends here, Nivea soft cream, the light moisturizer is a perfect option if you have dry skin, especially during the winters.
Enriched with vitamin E, it hydrates the face skin, hands, and body, its white texture with added glycerine and the skin accepted jojoba oil.
The product stands to all its commitments by being a perfect moisturizer for your skin and acting as a perfect savior in case you have dry skin.
Often, even in summers after we wash our face or take a bath, our skin gets a white powder-like texture, we feel like the skin is stretching, it's not as flexible as it was before the bath.
That is what dry skin refers to, and it happens not only in winters but in summers too. Nivea light moisturizer is a perfect buy and applies in this case.
Your skin will take its original texture; overcome the white stretch marks that originate after a bath over your face, wrist, elbow, or anywhere else.
Nivea Soft Cream Review; Ingredients
This milk-white textured, non-greasy moisturizer has everything required by a perfect moisturizer. Below is a brief of all its ingredients in common man's language:
Aqua – Water
Glycerin – Mainly derived from vegetable oil
Myristyl Alcohol – Fatty alcohol used a smoother skin
SD Alcohol 40B – 3.6% v/v – Specially denatured (SD) alcohol Is a mixture of ethanol with a harmful agent.
Paraffin Oil – Used to seal moisture into the skin
Butylene Glycol – A solvent and conditioning agent
Stearic Acid – Naturally occurring fatty acid
Continue scrolling to read Nivea Soft Cream Review to know more about its packaging and ingredients.
Microcrystalline Wax – Wax to binder the other agents
Mineral Oil – Oil for extra nourishment
Myristyl Myristate is – Naturally occurring fatty acid in some foods to make the cream hard.
Glyceryl Stearate – Lubricant on the skin's surface
Hydrogenated Coco – Glycerides, Dimethicone, Sodium Carbomer, Jojoba Oil, Tocopheryl Acetate, Polygiyceryl – 2 Caprate, Preservatives, Lanoil Alcohol, Parfum.
Quantity & Price: The moisturizer is available in different sizes and priced accordingly:
Directions: Apply gently on the face and other parts as required.
After reviewing an initial introduction, ingredients, quantity, price, and directions, continue reading the Nivea soft cream review to know about its packaging, BluBlunt's hands-on experience with the product, and then the final verdict.
Packaging: Nivea soft cream review
The moisturizer comes in a perfectly round shape, suitable for easy opening. One just needs to slightly rotate the upper cap and you could see the white non-greasy cream all over the round container.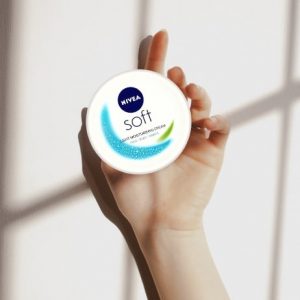 The overall weight of the container increases with the quantity. The maximum 300ml could be a bit heavy in case you are traveling.
However, there are much smaller sizes available, That is perfect in case you are traveling. This perfectly curved cream cum moisturizer container is perfect and the manufacturer has used a good quality material in the same.
On Hand | Nivea soft cream review: BluBlunt verdict
Easy to open and close, with a mere twist in clockwise and anti-clockwise directions.

There is an extra layer of protection, which resists the cream to spell over the upper cap.

The container also keeps the cream limited to it.

A pinch of the cream over the finger was enough for the face. On gently massaging the cream all over the face, the skin that was dry and tight became soft and nourished soon after applying.

Upon applying, the glycerin effect could be felt if have a closer look in the mirror.

The fragrance was fine and appealing; it was soft and naturally accepted.

For some seconds it felt hot as if something mild has been applied to the face, but it was back to normal in a while.

Soon the skin is gentle, soft, and nourished
You are reading the Nivea Soft Cream Review on blublunt.com
Last update on 2023-09-23 / Affiliate links / Images from Amazon Product Advertising API