Head & Shoulders is an American brand, manufactured by Procter and Gamble. It is a brand of anti-dandruff and non-dandruff shampoo, readily available on the market. In the Head and Shoulders Shampoo review, you will get to review the product to its core. Starting from a general introduction of the product to its features and ingredients, packaging, and how to use it. BluBlunt will review all of these.
It has a worldwide presence, with its products being shipped to over 150 countries. In today's scenario, it is one of the most easily available shampoos.
Considering the Indian market, head and shoulders is a familiar name. Everyone must have used the shampoo at least once in his life, or encountered its logo.
Head and shoulders, being found in every household are one of the safest and best available shampoos on the market today. The shampoo has managed to gain enough trust with its anti-dandruff tag and branding. Let's start the Head and Shoulders Shampoo Review.
Head and Shoulders Shampoo Review: About
Head and shoulders being one of the most easily available shampoos in the market have a wide range of options to choose from. The shampoo has a variety of options to choose from. Benefits of head and shoulders shampoo vary from repairing hair, smoothening, scalp cleaning, making hair silky black, as refreshing as menthol, and several others.
The shampoo with anti-dandruff properties is a dermatologist's favorite choice and recommendation to anyone with day-to-day hair care problems.
Certain repairs are carried out by the shampoo itself without any use of medicines or other medicinal-centric shampoos.
That is why its head and shoulders shampoo has won several awards worldwide and has an enormous fan following. The product is one of the top recommendations by dermatologists today.
It is because of their interactive branding with popular faces from Bollywood and the sports industry being the brand ambassador for the product, the commitment by the company to make your hair dandruff free is another major reason behind the success and wide reach of the product.
Everyone would have come across the shampoo at least once in his lifetime, the company's marketing strategy worked well in India, by making it available in different sizes and packing. From a mere Rs. 3 sachet to a full bulky squeezy bottle, the company well understood the Indian market and implemented its strategies accordingly.
Keep scrolling to Head and Shoulders Shampoo Review.
Head and Shoulders Shampoo Review; Ingredients
However, the benefits of head and shoulders shampoo, include anti-dandruff properties, hair-repairing agent, smoothening and nourishing being others, the shampoo has ingredients accordingly.
Every flavor of the shampoo has different ingredients depending upon the type of choice and use of the consumer, so BluBlunt will review the most commonly available in the market "moisture care".
Continue reading the Head and Shoulders Shampoo review to know what ingredients actually make such a great shampoo, also know the advisory and directions recommended by the company.
Pyrithione Zinc 0.5%: Anti-dandruff agent
Water: Regular water
Stearyl alcohol: A preservative in the shampoo
Cetyl alcohol: Thickening agent, reducing the acid level, and related uses
Stearamidopropyl dimethylamine: A conditioning agent
Glutamic acid: Hair conditioning agent
Dimethicone: Moisturizer to the scalp
Fragrance: Fragrance in the shampoo
Phenoxyethanol: A preservative in the shampoo
Benzyl alcohol: Used as a solvent and a preservative
Citric acid: Lemon juice, to balance the pH levels
Sodium chloride: Normal sea salt, used as a thickener in shampoo
Prunus amygdalus Dulcis (sweet almond) oil: Almond oil
Methylchloroisothiazolinone: A preservative with other added uses
Methylisothiazolinone: Another preservative
Yellow 5: Coloring agent
Red 33: Coloring agent
Blue 1: Coloring agent
Quantity and Price: Available in different sizes and flavors so the price depends accordingly.
These were the chief ingredients in the shampoo, all these ingredients actually make this an easy-to-use product for us.
Advisory and Tips
The shampoo also has a couple of advisory and tips for its consumers, continue reading to know more.
Head and Shoulders Shampoo Review; use
Helps prevent the recurrence of flaking and itching associated with dandruff, which means that it prevents any second chances of itching and flaking, which are directly related to dandruff.
Warnings
It is for external use only, which means that it is not supposed to be consumed by drinking or any other related act.
When Using This Product
We should avoid any direct contact with our eyes, and if at all there is any contact then rinse our eyes thoroughly with water.
Stop use and ask a doctor if
The condition worsens or does not improve after regular use of this product as directed.
Keep this and all drugs out of reach of children
If at all, it is swallowed, get medical help or contact a Poison Control Center right away.
Directions for using the shampoo
For best use at least twice a week or as directed by a doctor.
Apply to wet hair after shampooing by gently massaging into hair and scalp, and rinse well.
The company has managed well to show off its strength and corrective measures through the label, continue reading Head and Shoulders Shampoo Review to review the packaging of the product, and then the BluBlunt on-hand review of the product and final verdict.
Check out this Shampoo review: Garnier Fructis Long and Strong Shampoo Review
Head and Shoulders Shampoo Review; Packaging
With everything beyond imagination, head and shoulders shampoo have perfect packaging in all. The company has managed to target the right set of audiences with the right branding and promotions. From a mere Rs. 3 packing to a full-fledged bottle of 650 ml with a price tag of Rs. 475, this world-class shampoo provider has emerged to be one of the best when it comes to packaging too.
Both the sachet and the bottle use fine material in their packing and are very durable.
The company identified and judged the Indian audience and provided every type of packaging and size to its consumers. From interactive images and using fine-quality plastic material, the head and shoulders are the best in their segment.
The sachet, even though being very small did not spoil the branding of the company, but rather became a boon for them, as it was easily available in every grocery store near you and that too at a very nominal price.
They have excellent skills and leadership when it comes to packaging and delivering their products to the consumers.
Continue reading the Head and Shoulders Shampoo Review to know the benefits of head and shoulders shampoo and the BluBlunt final verdict on the product.
Benefits of Head and Shoulders Shampoo:
In Head and Shoulders Shampoo Review. Let's first discuss its benefits. The major benefit of using head and shoulders shampoo is that it completely scraps off dandruff from your scalp and hair. The results can be seen, from the first wash itself.
Over time, you would feel that the shampoo is doing its work pretty well, nourishing your hair, removing away dandruff, clearing your scalp, and other such benefits.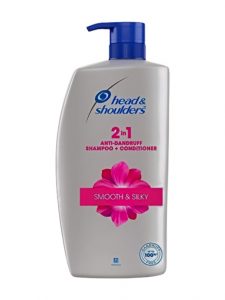 The shampoo stabilizes your overall hair health and makes them lighter and silky over time.
It would be better to choose head and shoulders shampoo as per your actual need and requirement, if your hair is damaged then go for a shampoo with repairing properties, if you want them to be silky, then go for black pearl, if you want your scalp and hair to be cool, then try menthol.
Subsequently, you can switch over with different variants over time and as per your need.
Head and Shoulders Shampoo review: BluBlunt Final Verdict
Head and Shoulders Shampoo Review; Until now, we have reviewed everything about the shampoo, and it is now time for the BluBlunt final verdict on the product.
BluBlunt Head and Shoulders Shampoo Review verdict will cover all the parameters related to the product like the benefits of head and shoulders shampoo and will not leave even a bit of anything.
The product was easily available to us, though a specific flavor could be a bit difficult to find and purchase.
It was easy to peel off the sachet.
The shampoo looked like a perfect detergent that would wash off your hair to its core.
Upon applying the shampoo, it felt good and soon it turned into foam.
It felt good on massaging the shampoo.
Upon rinsing, the hair was light, smooth, and feel cool.
The hair stayed wavy and light all day long.
You are reading the Head and Shoulders Shampoo Review on blublunt.com
Last update on 2023-03-17 / Affiliate links / Images from Amazon Product Advertising API