Himalaya is a world-renowned healthcare company that specializes in manufacturing and delivering healthcare and ayurvedic products. Under this segment, its Neem Scrub is one of the most popular in the market. In Himalaya Neem Scrub Review, you will get to know everything about the product, and review to its core.
A general introduction, benefits of Himalaya of neem scrub, ingredients, how to use, and others our review will cover everything about the product.
The Himalaya Drug Company is an over 80 years old company, established in 1930. Its products are sold in over 92 countries.
Around 50% of its revenue was from outside India in the year 2015, which certainly proves that it one very popular and resulted in overseas markets as well.
Himalaya is a Bangalore-based company operating in several countries like The United States, The Middle East, Asia, and Europe.
Continue reading Himalaya Neem Scrub Review to cover a basic intro to the product, its ingredients, and benefits later on.
About Himalaya Neem Scrub:
This scrub from Himalaya is one of the most popular scrubs available today and has a proven success record.
The scrub is equipped with a couple of herbal, minerals, and natural fruits. Neem is the prominent ingredient and Apricot compensates for everything left to make a wonderful skin.
Neem anti-bacterial properties hand, granules of Apricot remove the dead skin cells. It is another ingredient, which works wonders for the skin, Apricot for ages is a trustworthy and result-oriented herb for the skin.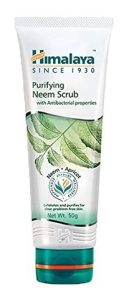 Together, Neem and Apricot work as a great exfoliator and purifier, removal of dead skin cells, excessive oil, acne, dark spots, and several others are the benefits of using Himalaya neem scrub.
Neem and Apricot also prevent the recurrence of acne along with removing impurities.
Neem scrub was not branded on a very large scale just as other products from Himalaya, still the product gained massive popularity.
It gives a clear indication that Himalaya Neem scrub actually gave results to its users and mouth–to–mouth publicity worked for them in the end.
The purifying neem scrub from Himalaya is a sure-shot answer to all your face skin-related problems. A perfect solution to complete skin treatment and will make your skin smooth and soft.
Continue reading Himalaya Neem Scrub Review to know its ingredients, benefits, how to use it, and a lot more.
Himalaya Neem Scrub Review: Ingredients
As already said it is a wonderful product, Himalaya Neem Scrub has a wonderful combination of ingredients. It has everything that will keep your skin healthy.
The scrub has a perfect blend of Neem and Apricot with Turmeric that is very well known to keep your skin healthy and remove excess acne and other impurities.
Keep scrolling to know the ingredients in this neem scrub.
Key Ingredients Include:
Neem: Very well, know Ayurvedic Herb, extremely well for skin
Apricot: Popular fruit with excellent results in skincare
Turmeric: Another Indian spice, found in almost every household
The product also has some inactive ingredients, which normally act as a preservative along with other benefits:
Methylparaben IP: A preservative
Propylparaben: For fragrance
Phenoxyethanol: Another preservative
It is a clear declaration from Himalaya that their neem scrub does not have many chemicals but basic preservatives that keep the ingredients of the product tend to stay for a longer period.
All its key ingredients are one of the best combinations that can deliver wonders to your skin. The company has not added any much of chemicals or preservatives too.
Thus, this fact can't be ignored that it actually herbal and supports the brand name of the company.
Price: Rs. 130/- Also available at a much lesser price online
Quantity: 100gm
Check out this: Himalaya Neem Face Wash Review
How to use Himalaya Neem Scrub:
In this Himalaya Neem Scrub Review, we will tell you how to use Himalaya Neem Scrub.
It is now very clear that the product is very good for your skin; it is a complete skin-repairing agent, which will keep it healthy and fight all its impurities.
Naturally, there is a recommendation from Himalaya on how to use the product and the correct directions for applying the product, keep scrolling to discover more:
Moisten face and neck and apply, avoiding the area around the eyes. Massage gently with fingertips in a circular motion for a minute. Wash off and pat dry. Use 2-3 times weekly.
The company also recommends two other products for best results: Purifying Neem Face Wash and Purifying Neem Pack.
Scroll to now more Himalaya Neem Scrub Review
Himalaya Neem Scrub Benefits:
The ingredients of the scrub completely describe the benefits you can derive from the product. Equipped with Neem that is since centuries are known to cure any type of skin disease, remove impurities, and protect it from other harmful diseases and common skin problems.
Acne, Dark spots, Un-Even skin tone, General well-being of the skin, retain your natural glow, these are some of the benefits of using neem on your skin.
This wonderful product from Himalaya already has Neem to give you endless benefits, protect, and nourish your skin all day long.
Another common problem we face on our face skin is Black Heads, but Himalaya Neem Scrub, which also has Apricot, ensures that there is no scope left for any Black Heads.
Apricot granules will help you in removing those Black Heads, as Apricot ages are known to protect and repair your skin.
Himalaya had something different in mind, with the goodness of Apricot they have perfectly created granules, which will help in reducing and removing those Black Heads from your facial skin.
The Scrub now has everything, a 100% satisfying and result-oriented Face Pack! That will not only remove all the impurities from your skin but also start repairing it eventually.
The anti-bacterial properties of skin remove germs harming your skin and apricots, on the other hand, removed all those Black Heads, dead skin cells, and impurities leaving your skin soft, clear, refreshed, and problem-free.
Continue reading Himalaya Neem Scrub Review to know the packaging of the product and our expert BluBlunt hand's on review of the product.
Packaging: Himalaya Neem Scrub Review
The packaging of the product is very durable and perfect to carry anywhere. There is also a great level of creativity in the scrub's packaging.
The texture and use of vibrant colors are near brilliant. The company's branding, product description along with other features are very well depicted and displayed on the product's packaging.
The material used is also very durable, flexible, and graphical; everything is shown clearly on the product.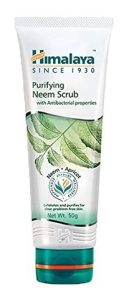 The cap on the top of the product is also fine and works perfectly when it comes to squeezing out the scrub from the neck.
Himalaya Neem Scrub's prominent ingredients, Neem, and Apricot are very well displayed on the product packaging along with other features i.e. 100% Herbal Actives and that it Exfoliates and purifies for clear, problem-free skin.
Overall, this Neem Scrub from Himalaya is one of a kind and when it comes to packaging, it has it all. Keep scrolling to know BluBlunt hands-on experience with the product and the final summary of the product later on.
On Hand Review | BluBlunt Final Verdict: Himalaya Neem Scrub
The wait is finally over; let us know what our expert BluBlunt has to say on Himalaya Neem Scrub Review.
The product has a very nice grip while carrying. It completely fits within your fist and ensures that it does not slip away.
The mechanism of the cap is also fine.
It was easy to squeeze out the scrub.
As soon as the scrub was squeezing out, the fragrance made it clear that it has a sufficient quantity of Neem.
The granules of Apricot completely bind the Neem. It ensures that every single gram of the scrub has the required amount of Apricot granules.
On applying the scrub on the face skin, it felt good. Skin felt better with general massaging for 2-3 minutes.
The Apricot granules are very effective.
After rinsing, the skin was bright and clear and Himalaya Neem Scrub did its job!
However, for maximum results to reflect, keep using the product for a month on a 2-3 times per week basis.
Overall, a very good product from Himalaya.
You are reading the Himalaya Neem Scrub Review on blublunt.com
Last update on 2023-09-23 / Affiliate links / Images from Amazon Product Advertising API