Patanjali has taken shaken the Indian market like a storm, with all the non-India MNCs already crying over a steep decrease in their overall turnover. Patanjali almond hair oil review will review everything about the product, its benefits, usage, ingredients, etc.
On the other hand, the company is improving every day with a turnover crossing over 20000 crores within no time.
Patanjali has a range of herbal hair oils, each having its own benefits. Every oil has its own pros and cons of using and contains ayurvedic herbs and minerals to prevent hair fall, anti-greying, etc.
BluBlunt reviews are very strict as we cover every minute detail about the product, continue reading Patanjali Almond Hair Oil Review to kick-start the review with a basic intro to the product.
About Patanjali Almond Hair Oil
Baba Ramdev's other "Swadeshi" creation, Patanjali almond hair oil is one of the cheapest hair oil available in the market today.
Almond is believed to be very effective for hair and scalp and skin treatment, with Patanjali almond oil it is now very much easy to try to get the maximum benefits out of it.
Loaded with natural ingredients and herbs this oil is a perfect choice for your hair and that too at a very reasonable price.
Continue reading to cover the ingredients part and know what actually you are applying to your hair.
Patanjali Almond Hair Oil Review; Ingredients
It's time to review Patanjali almond oil's ingredients and know how it makes a true hair glorifying agent for us.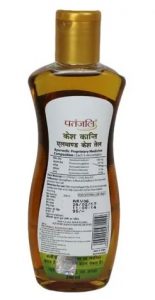 Sesamum Indicum: Sesame oil (Oil out of Til –sesame)
Prunus amygdalus: Almond oil (oil out of Badam)
Terminalia belerica: Baheda – an Indian Herb
Emblica Officinalis: Amla
Terminalia Chebula: Haraad
The Shocking part here is, that even though it has called "Patanjali almond hair oil", its main ingredient includes sesamum Indicum i.e. "oil out of til" whereas almond is a secondary added ingredient in it.
Maybe, Patanjali wants to deliver a healthy hair oil with almond as a marketing agent with sesame as the primary ingredient.
Sesame (til) is a proven herb that has magical benefits on the hair.
Quantity: 100ml
Directions: Take the required quantity of oil and massage gently over hair and scalp. Leave for half an hour before washing.
Indications: Strengthens, Softens conditions the hair, and prevents hair fall.
Continue reading to review the benefits of almond oil and know about the packaging and BluBlunt on-hand review of the product.
Also, read: Dabur Vatika Olive Hair Oil Review
Patanjali Almond Hair Oil Benefits

In Patanjali Almond Hair Oil Review let's discuss its benefits. Patanjali almond has loads of benefits, strengthening hair is the primary benefit of the product. Conditioning, and preventing hair loss are some added benefits.
However, Sesame being the primary ingredient in the product has its own benefits which are probably compatible with the almond. So overall, it will have magical benefits on our hair upon use.
By the way, BluBlunt has used the same product in past.
Packaging Review: Patanjali Almond Hair Oil
It comes in a handy pack of normal size, which is 12cm long.
The packaging material used is also of fine quality, though it could have been better and much more durable. Priced at a mere Rs. 50 for a 100ml bottle, they need to save through these cost-cutting tactics.
The graphics used on the product are not very impressive and they could have been better too. They must invest in their design and graphics part this would look better than what it is looking right now.
The plastic used in the bottle is also just fine, but again a poor show of graphics.
Its cap and its opening mechanism are also fine, and it will spill out the oil only until the time you allow it to do so.
On Hand Review of Patanjali Almond Hair Oil: BluBlunt Verdict

Now that we have reviewed every if-and-but about the product, let us now review the most anticipated part of the product.
BluBlunt Patanjali Almond Hair Oil Review:
Upon opening the cap to spill out the oil, a strong fragrance of almond was felt and looked like a complete almond solution.
When the oil spilled out on the hand, there was a warmth of the oil on the palm, with a traditional yellowish almond oil color.
After applying the oil to the hair, it got a bit sticky initially.
It looked as if something very sticky and oily thing is applied.
Left it for 30 minutes, as mentioned in the directions.
Over those 30 minutes, the hair was not that sticky and better than before.
Upon wash, the hair was conditioned and much better.
Regular use of this oil could solve several hair problems.
You are reading the Patanjali Almond Hair Oil Review on blublunt.com
Last update on 2023-09-23 / Affiliate links / Images from Amazon Product Advertising API